Well, that happened.  Donald J. Trump is now President of the United States.  And he was sworn in to a pathetic turnout.  Sad!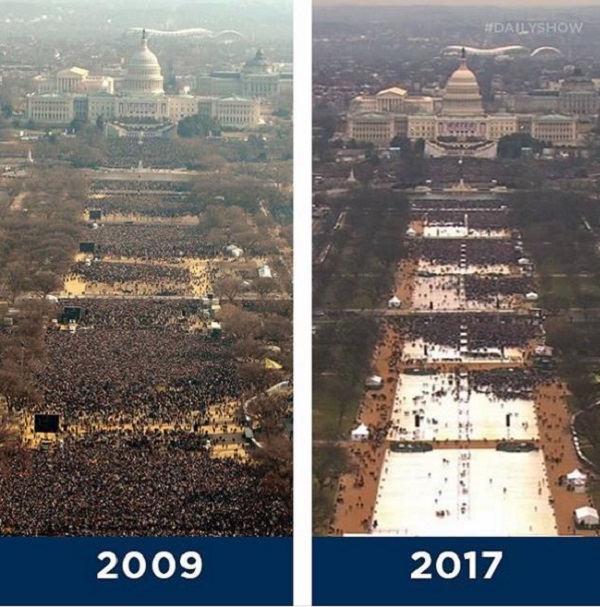 Except, well, it wasn't.  When you're comparing any inauguration to the gold standard for inaugural attendance, you're going to come up short.  Trump's inauguration was attended by the average number of people who go to these pompous events with an all-important oath.  And while the 2009 inauguration was historic and record setting, it also marks the last time almost everyone in that picture gave more than a cursory thought into how they could help Obama become the President he wanted to be.  "Yes we can" quickly became "Why can't he?".  And sure, we showed up to the polls in 2012 to elect Obama for a second term, but where were we in 2010?  Or 2014?  Nowhere to be seen.  Polls were a ghost town.
Guess who did show up in 2010 and 2014 and 2016?  Republicans.  They are vastly outnumbered and yet they win as much if not more than Democrats.  And it's for one simple reason.  They show up.  Maybe not for inaugurations or demonstrations or Women's Marches, but every Tuesday next after the first Monday in the month of November, they show up.  And we don't.  It's as simple as that.  Nothing else matters.
Today, the day after Donald Trump was sworn in as President of the United States, there is a Women's March on D.C. and other locales throughout the country.  It already promises to be huge in ways that are almost indescribable.  It is a valuable and necessary first action against a narcissistic egomaniac who obviously cares less for women than he does other human beings.  And that is a very low bar.  My hope is that this IS just a first step.  That the women and men that march today have woke.  That the mistakes we made with Obama will never be repeated.  That we will finally realize that "of the People, by the People, and for the People" does not mean showing up to the polls only when a candidate moves us.  It means getting out there every year and voting in local elections and off-cycle elections.  It means holding those people we vote for accountable while they are in office.  It means taking action, not just every four years or every two years or every year, but every time we have an opportunity to do so.
Let us all finally realize the dream of "YES WE CAN!"