All the trees here in Chicago are budding and it's slightly rainy and a bit windy.  That means tree splooge is everywhere.  Those of us who are unlucky enough to have parked outside need a tree splooge towel to wipe off our cars.  Budding trees will have distinctive bud/pollen rings around them come morning.  It's a little disgusting but it's all part of the normal cycle.
Spring is kind of amazing.  The world takes on this sickly sweet smell wherever you go.  With all of the trees coming out of hibernation, the carbon dioxide in the air actually precipitously drops.  The earth has a breath rhythm and that breath rhythm is increasing: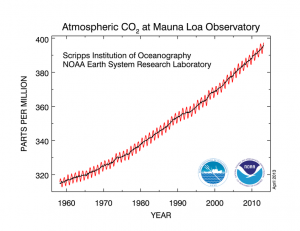 Increased carbon dioxide in the atmosphere leads to increased temperatures.  Increased temperatures leads to more erratic weather.  More erratic weather leads to more disasters.
Increased carbon dioxide is only good for plants up to a point just like increased oxygen is only good for humans up to a point.  If oxygen were increasing the way carbon dioxide is we'd be terrified.  Too much oxygen in the air and someone lights a cigarette and the entire world explodes.  Carbon dioxide isn't as dramatic.  It's a creeper.  There are so many places to store the excess heat that carbon dioxide creates that people don't realize there's something wrong.  But there is something wrong and special interests have hijacked rational debate.
97% of climate scientists say there is something wrong but the 3% that say there isn't anything wrong get equal (or even more) time in the media.  This creates a dynamic where people believe there is a vigorous scientific debate going on where there really isn't.
The ice caps are melting dramatically.  Air temperatures are slowly rising.  The ocean is incomprehensibly vast and has the ability to absorb a lot of the generated heat.  At some point, that will end and the air temperature will rise precipitously.  It may already be too late to stop this.  That doesn't mean we shouldn't act.